Our drawings are fully detailed for easy DIY construction. They include 3D views so you can get a sense of how each component should look. If you can saw, drill, screw and glue, and paint, you can build an INSIDEOUTBACK campervan. 
CAD templates on all curved panels mean you don't have to be a boatbuilder to assemble it.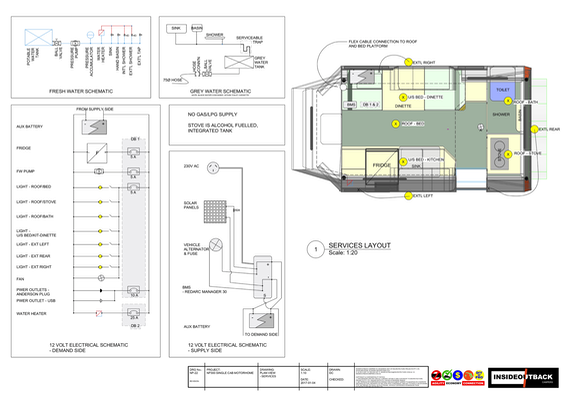 Our specifications include everything you need to know in sourcing, ordering and checking the materials. 
We specify Standards Compliant materials, including FSC/PEFC plywood, zero-VOC interior finishes, waterproof adhesives, and long lasting coatings. 
We give you a list of preferred suppliers, to save you time searching.
WHAT DO THOSE TERMS MEAN?
FSC - Forest Stewardship Council certification means the timber has  been produced sustainably, and is third party audited, so it can be tracked from from the stump in the ground to the sheet of ply or stick of timber in your hand.
PEFC - Program for the Endorsement of Forest Certification Schemes. Not quite as good as FSC, but where FSC is not available, it's the next best thing.
VOC - Volatile Organic Compounds. These are the nasties that most man-made materials give off, including several known carcinogens. 
Vehicle interiors usually off-gas VOCs (noticed the inside of the windows get a bluish tinge after a while? - that's VOCs!), though usually the less deadly types, but we say 'why add to the mix?' We specify materials and finishes that make the interior better, not worse.
We use Ecospecifier to check the bona fides of all the products we specify.